Assisted hearing induction loop
It is believed that there are over 2 million deaf or hearing impaired people who wear a hearing aid (and a further 3 million people who would benefit from wearing one). This is a significant group in number and spending power potential. Raising your level of customer service to include this group by installing an induction hearing loop makes good business, moral and legal sense.
You may be open to legal action if your level of customer service is lower or worse for the disabled (hearing impaired) than that for all other customers.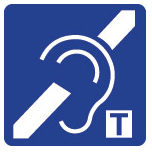 Kirkpatrick Sound Engineering has amassed a vast depth of experience in providing hearing loop systems to a wide range of churches, friends meeting houses, businesses, local authorities and many other venues
The most common method of providing hearing support is by using an Induction Hearing Loop and the 'T' position setting on hearing aids. See below for some FAQs: